Moving a Workgroup:
Moving workgroups will give the System admins the ability to move a workgroup from a parent workgroup to another parent workgroup. This is to save the customer from having to delete the workgroup within the old parent workgroup and then recreating it within the new parent workgroup.
System admins are the only users who can perform the movement of sub workgroups to another parent workgroup outside of the sub workgroups' license group. Any users who have admin access but not sysadmin access will not be able to perform this action. You will only be able move the sub workgroup into another work group that contains the same License group (Master License).
On the 'Edit Workgroup' page there will be an option for 'Parent Workgroup Name' which has a drop down for all the parent workgroups. Using this drop down you can select to move the workgroup you are currently editing to become a sub workgroup of the new parent workgroup selected in the drop down.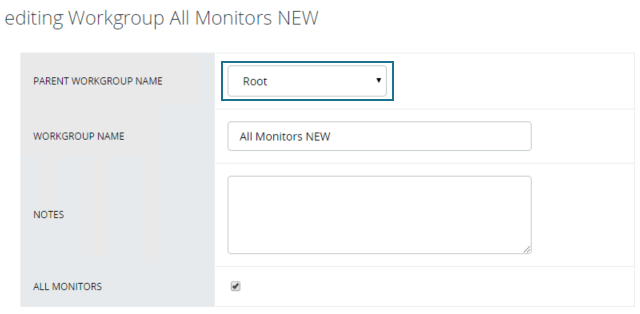 After Selecting the new parent workgroup from the drop down, click on the save button and the workgroup should now have moved. When the workgroup has been moved successfully all the child workgroups, task groups, participants and reviews will also be taken over to the new parent workgroup.
You cannot move the workgroup to another workgroup when the two workgroups are not using the same license group (Master License). The workgroup cannot be moved to itself as a parent workgroup nor can it belong to its own child workgroup. The workgroup also cannot be moved to or from locked workgroups.

Note: If a workgroup has a specific setting overridden and is moved to a parent workgroup which setting is set to 'allow override = off', this will NOT automatically remove the overridden setting already present on the moved workgroup.