Accessing Usage Report:
Users within PleaseReview who have Administrative permissions are able to perform usage reports. This allows you to see what users and reviews are in use. To get to the usage report function you will need to navigate to the Admin tab at the top left hand corner of the screen, once you are within the Admin options you should have an option for usage report down the left hand side of the screen.Once within the usage report category you will then be provided with the following:





Once you have selected the correct workgroup and all the other options within the usage report page you can then select the generate option to generate the report. This will generate the report to your chosen criteria that you have selected within the option pane.

Generated Usage Report:
Once you have clicked on the generate option for the report you will be presented with the following report if you have not selected the output csv box. If you have selected the option for output csv then you will be presented with a downloadable Excel document.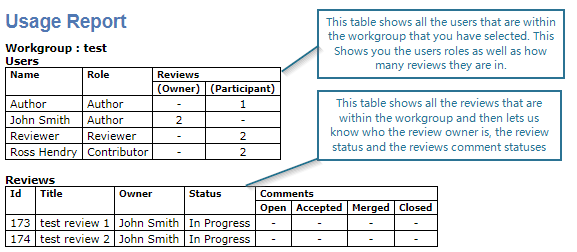 Understanding the Usage Report:
By Generating the report this allows you to be able to see within the chosen workgroup. You can see what users are stored within this review as well as how many reviews they are currently in. The usage report also gives you a chance to see how many comments are being made and accepted within each of the reviews and allows the admin users to check and see if there is any comments that have not yet been removed, due to the open status as well as being able to see if the reviews statuses are not yet complete. By being able to do these reports it allows us to find out what reviews the users are in to allow us to eventually free up licenses that they may be using that is not required.