Overview
Flight Mode is an alternative offline review option to the Offline Client, designed specifically for use on tablets and Apple Mac but can also be used on a PC. It allows participants to access reviews of Microsoft Word documents and make comments and propose changes whilst offline. The comments can then be uploaded to the review when back online. Flight Mode uses HTML5 and therefore is not compatible with older browsers (IE9 and earlier).
Downloading reviews for Flight Mode
Before using Flight Mode for the first time, bookmark the Flight Mode page so that it can be accessed offline. To download documents to review offline, click the 'Flight Mode' link on the PleaseReview homepage: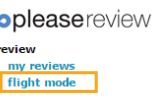 The Flight Mode screen will be displayed listing all reviews available for you to download. Select the review(s) then click 'Download':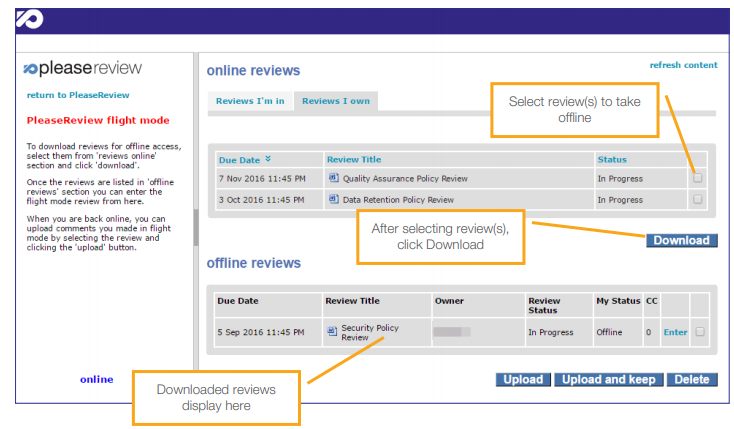 As Flight Mode supports Microsoft Word documents only, reviews which do not contain any Word documents will not be listed as available for download. Reviews containing mixed document formats including at least one Word document will be listed but only the Word document(s) can be downloaded.

Important - You must NOT clear your browser cache whilst using Flight Mode as it will delete all documents and comments made offline.
Reviewing documents in Flight Mode
Once offline, the Flight Mode screen, which you have bookmarked, will display your downloaded reviews:



You can add comments and make proposed changes in the usual way whilst offline. Paragraphs where you have added comments or made proposed changes whilst in Flight Mode will display highlighted:



Once you have finished, click the 'Leave Review' icon and you will be prompted to update your status in the usual way. Update your status and click 'OK' to return to the Flight Mode screen.
Upload
When you are back online you can upload your comments: